DVS Carbon
CO2 & H2O gravimetric sorption analyzer
Analyzing the performance of materials in carbon capture, storage, and utilization is crucial for researchers, emphasizing the need for accurate and dependable analysis.
The DVS Carbon combines gravimetric precision, humidity control, and advanced mixing capabilities to provide a perfectly calibrated solution for advanced Carbon Dioxide capture, utilization, & storage.
The latest addition to the DVS family, DVS Carbon, is the first purpose-built gravimetric sorption analyzer for advanced carbon capture, utilization, and storage (CCUS) applications. In most gas phase carbon capture applications, CO2 often competes with other chemical species at adsorbent sites, including water vapor. The new DVS Carbon enables the measurement of CO2 uptake in real life conditions, controlling both temperature and humidity at a broad range of CO2 concentrations.
With the patented Surface Measurement Systems Ultrabalance measuring real-time mass changes caused by sorption and desorption in the sample, complex carbon capture conditions can be assessed in a range of materials. In addition, the system can be configured to enable a range of different capabilities.
DVS Carbon:
An Introduction with Dr. Paul Iacomi
Ahead of the upcoming exclusive webinar, Dr. Paul Iacomi here takes you through the unique functionality of the DVS Carbon, a bold new step in developing advanced CCUS applications.
First-of-its-kind
In this growing research space, DVS Carbon is the first purpose-built gravimetric sorption analyzer for advanced carbon capture conditions.
Independent multicomponent control
With a carefully calibrated mixing system, the DVS Carbon independently controls the CO2 and water concentration, enabling complex sorption programs to be created with controlled changes in concentration and temperature.
Isotherms of CO2 & H2O
Test your materials to get CO2 & water isotherms in realistic conditions, with kinetics for each step available by default with our purpose-built control & analysis software.
Multiple concentration & temperature ranges
High (%) or low range (ppm) CO2 can be controlled, suitable for DAC, PCC, or other CCUS conditions.
In-situ activation & regeneration
Expanding your instrument capabilities with a pre-heater, your sample can be locally heated up to 300 oC under inert or process gas, with drying activation or segmentation kinetics determined directly.
Benefits
Capabilities
Applications
Specifications
Schematics
Benefits
The only purpose-built system to measure carbon capture properties of materials in real-world conditions
Employs specially redesigned, patented Speed of Sound Sensor for accurate real-time precision
Open stainless steel stand design enabling easy access to sample pan while minimizing static electric charging
Broad temperature range (5-85 °C) with a single, uniform, and accurate temperature enclosure
Sample heater enabling local temperature control up to 300 oC, for activation, drying, etc.
Heated reservoir for extended humidity generation (98% RH up to 60 0C and 85 %RH up 85 oC), with fully automated temperature control
Next-generation control and evaluation software for the most advanced experimental design and data analysis
Optional accessories to enable Raman or NIR spectroscopy as well as video
Capabilities
CO2 and H2O sorption and desorption isotherms & kinetics
Independent multicomponent control and mixing
Optional in-situ sample preheating/drying to 300 °C
Multiple sorption/desorption and sample drying or activation cycles
Sample masses from up to 5000 mg
Surface and bulk measurement capabilities and analyses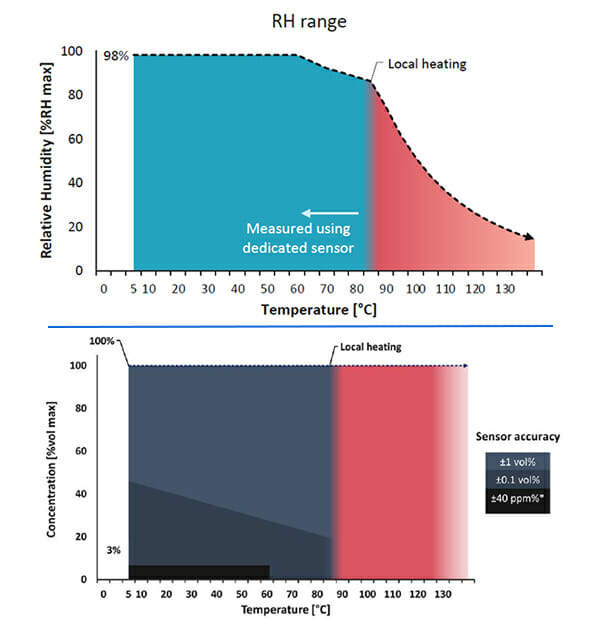 Applications
Carbon capture
Post-combustion capture
Carbon sequestration
Temperature/moisture swing sorption
Direct air capture
Solid sorbent characterization
Specifications
Construction Materials
Custom built manifold: 316 stainless steel
Seals: Viton® and Kalrez® or equivalent
Tubing: 1/4 inch 316 stainless steel
Gas Flow Control
High accuracy digital mass flow controllers
Wide dynamic range – turndown ratio 1000:1
Carrier gas: dry air, nitrogen, CO2 (<1%) in nitrogen
Temperature Control
Temperature controlled enclosure
Contains entire generation and measurement system
Control range: 5 °C to 85 °C
Temperature stability ± 0.05 oC over 6 hours
Temperature resolution 0.01 °C
Local sample heater
Control range: up to 300 °C
Heating ramp rates: up to 10 °C/min
Humidity Generation & Measurement
Water Reservoirs
500 mL quick-fit reservoir
Heated to avoid evaporative cooling
Generation
Relative humidity range
0 to 98% RH for 5-60 oC 1
0 to 85% RH for 60-85 oC 1
Relative humidity generation performance
Accuracy: ±0.5% RH 2
Resolution: ±0.1% RH
Stability: ±0.1% RH over 6 hours
Measurement
Relative humidity continuous measurement
Relative humidity measurement accuracy
±0.8% RH at 5-40 °C
±1.5% RH at 40-85 °C
CO2 Generation and Measurement
Generation
Concentration range 0-100% vol, atmospheric pressure
CO2 generation performance
Accuracy: exact 3 or 0.5% vol of inlet concentration 4
Measurement
Patented Speed of Sound sensor
Range: 0-100% vol 5
Accuracy: 0.1% vol up to 40% vol, 0.5% above
In line NIR ppm sensor 6,7
Range 0-0.5% vol
Accuracy: 40 ppm 5
Weight Measurement
Ultrabalance Low Mass
Maximum load: 1000 mg
Mass change: ±150 mg
Resolution: 0.01 μg
Balance noise: ≤ 0.3 μg 8
Ultrabalance High Mass
Maximum load: 5000 mg
Mass change: ±1000 mg
Resolution: 0.1 μg
Balance noise: ≤ 3 μg8
Hardware Configuration
Standard
Mixing of two gas streams, with controlled humidity and CO2 concentration, respectively 9
Switching between different carrier gases e.g. Nitrogen and 400 ppm CO2
Advanced
Two heated reservoirs for enhanced humidity generation at high CO2 levels (up to 98% humidity in a pure CO2 stream) 9
Mixing and direct measurement of low CO2 concentrations (ppm level) through dedicated instrumentation9
System Information
Dimensions: 520 mm (W) x 980 mm (H) x 610 mm (D)
Weight: 80 kg (180 lb)
Electrical: 200-240 V, 50/60 Hz, 1500 VA
System Software
DVS Control Software
Live data view and plotting
Full control over all parameters
Powerful custom methods and sequences
Complex isotherm or isobar experiments
Temperature changes in a single experiment
Ramp or step methods available
Intelligent (dm/dt) or time based step equilibration criteria
Multiple concentration or temperature cycles.
Automated video image or Raman spectra acquisition
DVS Analysis Software
Automated isotherm calculation
Full kinetics information during experiment
Isotherm modeling
Isotherm modeling
Enthalpy (heat) of adsorption
Permeability and diffusion modeling
Surface area models
Software Options:
Standard
Control software
Standard analysis
Advanced
Advanced analysis suite
Isotherm analysis suite
Footnotes:
1 Humidity factory calibrated at 25°C and 70°C. Calibrations at other temperatures upon request
2 1-σ confidence level with % RH based on SMS factory certified methods (Salt Calibration)
3 When using pure CO2 or a calibrated cylinder
4 When mixing
5 At 25°C
6 Only in advanced configuration
7 Using ppm probe reduces maximum operating T to 60 °C
8 Root mean square (averaged over 24 hours)
9 Some measurement restrictions apply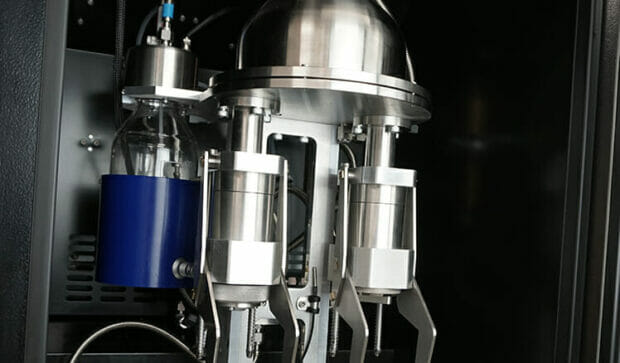 Bring the power of the DVS Carbon to your lab
The DVS Carbon is the world's most advanced instrument for analysing the carbon capture potential of materials.
To find out more about how this groundbreaking instrument can take your research to the next step, download the instrument brochure now and have a chat with a member of our team.