DVS Discovery
Dual Balance Gravimetric Vapor Sorption Analyzer
The world's most advanced dual-balance gravimetric vapor sorption analyzer, the DVS Discovery is the latest offering in the Dynamic Vapor Sorption (DVS) instrument range.
The DVS Discovery combines an innovative dual-balance design with outstanding vapor generation and temperature control. This increases high throughput while reducing operator time.
Employing Surface Measurement Systems' very own Dynamic Vapor Sorption (DVS) technique, the DVS Discovery enables users to conduct advanced materials characterization research employing water or organic solvents. The instrument comes with all the hallmarks of the DVS range; incredible Ultrabalance accuracy, unparalleled temperature, and humidity control, and a range of modular accessories that greatly expand its capabilities.
This versatile instrument is employable in a range of applications, providing data on water sorption isotherms, Hygroscopicity of pharmaceutical solids, Tg and RH phase transitions in polymers, Amorphous content determination, Diffusion and permeation in polymers, and more.
The world's most advanced dual-balance gravimetric vapor sorption analyzer
See the DVS Discovery in action, and discover what this groundbreaking instrument is capable of with our video showcase.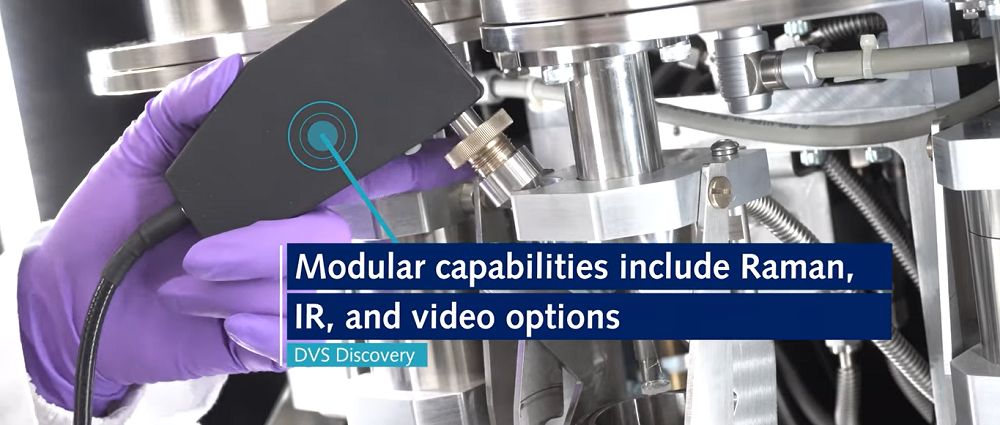 Organic and water vapor sorption kinetics and isotherm from 10 to 70 ℃
Gain accurate and detailed data on water sorption kinetics and isotherms of materials using water vapor or organic solvents.
Dual balance design for simultaneous mass measurements
Get higher throughput and reduce operator time with our innovative dual balance design, enabling simultaneous mass measurement of two samples.
Expanded Capabilities
Including our patented Speed-of-Sound sensor, Microscopic camera, In-situ sample pre-heater, IR/Raman, and more, the DVS Discovery offers a range of modular accessories to greatly expand its capabilities.
True 0 drying at 0.0% RH
As the only DVS instrument range offering True0 Relative Humidity, achieving partial pressures of water as low as 0.0% RH, vital for hydrates and other compounds that only completely dry below 1% RH and the investigation of sorption/desorption at low RH levels.
Applications
Schematics
Specifications
Applications
Water sorption kinetics and isotherms
Hygroscopicity of pharmaceutical solids
Tg and RH phase transitions in polymers
Amorphous content determination of solids
Diffusion and permeation in polymers
Food, flavors, and fragrances
Sorbents
Wood and cellulosic materials
Composites
Hydrophilic and hydrophobic materials.
Schematics
This schematic displays the basic functioning principles of the DVS Discovery instrument.
Specifications
Temperature
Temperature controlled enclosure
Control range: 10 °C to 70 °C
Temperature stability ± 0.05 °C over 6 hours
Temperature resolution 0.01 °C
High-Temperature Pre-heater for drying up to 2 samples
200 oC (maximum local temperature)
Heating ramp rates: up to 5 ºC/min
Temperature sensor: Pt-100
Discovery stand
Manifold: 316 stainless steel
Seals: Viton® and Kalrez® or equivalent
Tubing: 1/4 inch stainless steel
Solvent Reservoir
1 glass reservoir as standard
Optional heated reservoir
Flow control
High-accuracy digital mass flow controllers
Wide dynamic range – turndown ratio 1000:1
Carrier Gas – Dry air or Nitrogen
Relative humidity
Relative humidity range from 0 to 98% for 10 – 45 oC
Relative humidity range from 0 to 85% for 45 – 70 oC
Relative humidity resolution ± 0.1%
Relative humidity stability ± 0.1% over 6 hours
RH range accuracy from 10 – 45 oC ± 0.5%3
RH range accuracy from 45 – 70 oC ± 1%3
Organic Vapor Generation and Measurement using Speed of Sound Sensor
Partial pressure range from 0 to 90% P/Po
P/Po resolution ± 0.1%
P/Po accuracy from 10 – 70 oC ±1% P/Po
Mass Measurement
Ultrabalance Low Mass
Maximum load: 1000 mg
Mass change: ±150 mg
Resolution: 0.01 μg
Balance noise: ≤ 0.3 μg
Ultrabalance High Mass
Maximum load: 5000 mg
Mass change: ±1000 mg
Resolution: 0.1 μg
Balance noise: ≤ 3 μg
System Information
Dimensions:     520 mm (W) x 980 mm (H) x 610 mm (D)
20.4″ (W) x 38.58″ (H) x 24.01″ (D)
Weight:              80 kg (180 lb)
Electrical:         200-240 V, 50/60 Hz, 1500 VA
Hardware Configuration
AQUA: 1 humidity sensor
Organic: 1 humidity sensor plus 1 SoS sensor, (1 reservoir)
System Software
DVS Control Software:
Sample pre-heating
Vapor sorption
Temperature changes in a single experiment
Ramp or step changes in relative humidity
Automated video image and IR/Raman spectra acquisition
Complex isotherm experiments
Organic vapor sorption partial pressure
Experimental stages may be based on fixed-time or user-defined dm/dt criteria
Experiments may include half, full or multiple partial pressure or temperature cycles
WindowsTM 10
DVS Analysis Software:
Isotherms
Permeability and diffusion
Kinetics information
Surface area models
Amorphous content
Heat of sorption
Tg determinations
Software Options:
Standard
Control Software
Standard Analysis
Advanced
Advanced Analysis Suite
Isotherm Analysis Suite
21CFR Part 11 software solution (optional)
Discover what's possible with Dynamic Vapor Sorption
To find out more about this groundbreaking instrument, or to discuss bringing its capabilities to your lab with a member of our team, download the brochure or request a call below.