DVS Endeavour
5X Parallel Gravimetric Sorption Analyzer
Offering the highest throughput of our entire DVS range, the DVS Endeavour, a 5X Parallel Gravimetric Sorption Analyzer, precisely controls and measures temperature and relative humidity while recording the highest resolution changes in mass on up to 5 samples simultaneously.
Combined with a range of modular accessories, the DVS Endeavour is one of the most versatile DVS instruments on the market.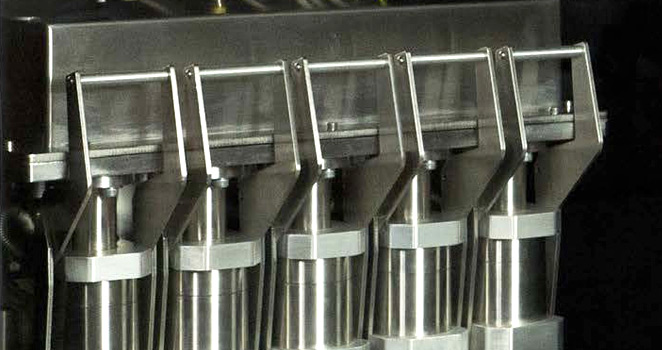 The ability to preload, automate, and run experiments without the interaction of an operator can save laboratories valuable time and manpower, and deliver more results in a shorter timeframe, massively reducing costs. With 5 sample champers and a specially configured Ultrabalance system, the DVS Endeavour enables laboratories to measure real-time mass changes caused by sorption or desorption of water and/or organic molecules, and gain a detailed and accurate insight into organic and vapor sorption kinetics.
With Surface Measurement Systems Patented Speed-of-Sound Sensor, Organic vapor partial pressures can now be directly measured using the DVS Endeavour. Combined with a range of modular accessories to provide further insight and control throughout the experiment, the DVS Endeavour is an impressive tool for achieving unmatched high throughput in sorption characterization studies.
Unmatched higher throughput
With 5 sample chambers, the DVS Endeavour offers unparalleled capacity to run simultaneous sample measurement
Organic and Water vapor sorption kinetics
With the addition of the Patented Surface Measurement Systems Speed-of-Sound sensor, the DVS Endeavour can analyze sorption kinetics for both water and organic vapor.
True O drying at 0.0% RH
Surface Measurement Systems' DVS gravimetric sorption analyzers are the only instruments of their type offering True O RH, achieving partial pressures of water as low as 0.0% RH. This is important for hydrates and other compounds that only completely dry below 1% RH and investigation of sorption/desorption at low RH levels.
Wide Temperature Range
The DVS Endeavour enables you to measure water and organic vapor sorption isotherms from 10 to 70 °C, without any sacrifice in humidity control or precision.
In-situ drying with the sample preheater
Expand the scope of your experiment by employing the modular accessory, the sample preheater. This allows In-situ drying of samples up to 200 °C.
Optional Color Video Microscopy
Bring visual details to your reports, along with a bit of flare, by attaching the Color Video Microscopy camera, enabling high-resolution imagery to show the changes to your sample.
Benefits
Applications
Solvents
Specifications
Schematics
Benefits
Simultaneous 5X sample measurement
Organic and Water vapor sorption kinetics
Organic vapor sorption in a fixed RH background
Real-time partial pressure measurement and control
Water and organic vapor sorption isotherms from 10 to 70 °C
In-situ drying of samples to 200 °C
Optional Color Video Microscopy
True O drying at 0.0% RH
Applications
Batch-to-batch variation
Water sorption isotherms & kinetics
Amorphous content
Hydrate/solvate formation
Polymorph identification
Diffusion and permeability
Solvents
Acetone
Chloroform
Cyclohexane
Decane
Dichloromethane
Dichloromethane
Ethanol
Ethyl acetate
Ethyl benzene
Heptane
Hexane
Isopropanol
Methanol
Nonane
Octane
Toluene
Water
M-Xylene
p-Xylene
Specifications
Temperature
Temperature controlled enclosure
Control range: 10°C to 70oC
Control precision: ± 0.1oC
Enclosure provides anti-condensation protection.
 High-temperature pre-heater for sample drying/activation
Delivers local sample temperatures of up to 200 °C
Heating ramp rates: up to 5 °C / min
Sensors: Pt-100 thermocouple
Endeavour Stand
Manifold: 316 stainless steel
Seals: Viton
Tubing: 1/4 inch stainless steel
Water Reservoir
Material: glass
5 L as standard
Organic Vapor Generation and Measurement with Speed of Sound Sensor
High-accuracy digital mass flow controllers for vapor and gas delivery
Speed of Sound Sensor for organic vapors
Carrier Gas – Dry air or Nitrogen
Partial Pressure range from 0 to 90%
Partial Pressure accuracy from 10 – 70 °C ±1%
In-line real-time Speed-of-Sound Sensor for organic vapor Partial Pressure (P/Po) measurements and
control with a typical resolution of ±0.1% P/Po
Automated zeroing of Speed of Sound sensor prior to each experiment
Note: SMS limits the use of organic solvents to 20°C below their boiling points.
Relative Humidity Sensor, Generation, & Measurement
Sensor
Capacitance probe
Carrier Gas – Dry air or Nitrogen
Water vapor generation range and accuracy:
0% to 98% (±0.5%) RH for 10°C to 45°C 1
0% to 85% (±1%) RH for 45°C to 70°C 1
11-σ confidence level with %RH or P/Po calibration performance based on SMS factory certified methods (Salts Calibrations or equivalent method)
In-line real-time Humidity Probe for Relative Humidity measurements and control with a resolution of 0.1% RH
Generation & Measurement
High-accuracy digital mass flow controllers and capacitance probe
System Software
Next-generation purpose-built control and evaluation software for the most advanced experimental design and data analysis.
DVS Control
Complex protocols for multiple experimental sequences using sample pre-heating and conditioning; isotherm, isobar and ramped humidity and organic vapor methods; single or dual vapor delivery, and control; fixed time or mass derivative steps.
Multiple-method protocols incorporating:
Sample pre-heating
Vapor sorption
Vapor exchange
Dual vapor co-adsorption
Temperature changes in a single experiment, including
Ramp or step changes in relative humidity
Automated video image acquisition
Organic vapor sorption partial pressure
Temperature stages may be based on fixed-time or user-defined dm/dt criteria
Complex isotherm experiments
Experiments may include half, full or multiple partial pressure or temperature cycles
Analysis
Isotherms
Permeability and diffusion
Kinetics information
Heat of sorption
Tg determinations
Amorphous content
BET
21CFR Part 11 software solution is available for all DVS software upon request.
Mass measurement
Ultrabalance Low Mass
Maximum load: 1000 mg
Mass change: ±150 mg
Resolution: 0.01 μg
Balance noise: ≤ 0.3 μg
Ultrabalance High Mass
Maximum load: 5000 mg
Mass change: ±1000 mg
Resolution: 0.1 μg
Balance noise: ≤ 3 μg
Schematics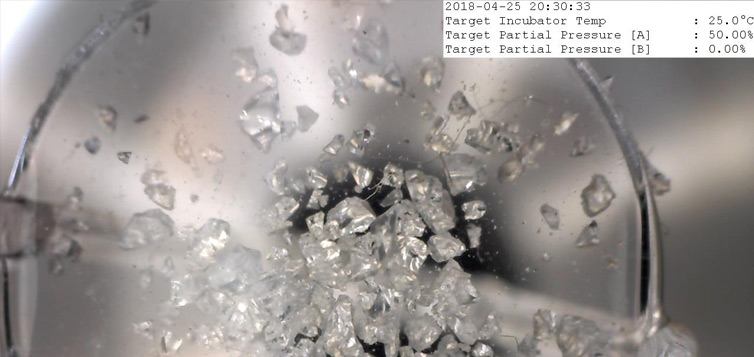 Find out more about the DVS Endeavour
The DVS Endeavour's high sample capacity and varied modular accessories make it unrivaled in the market for high throughput and versatility. To discover more about the instrument and see what benefits it could bring to your laboratory, simply fill in your details below.